Welcome to San Diego County's Secret Desert!
Here you will find a wide variety of useful information and resources designed to help you buy or sell a home more effectively in the Borrego Springs areas. From information on the local community, to advice about finding a mortgage or preparing your home to sell, it's all available here on my web site.
You can also search for your ideal home by viewing current listings with detailed descriptions and photos. Or you can get help determining the value of your home by requesting a report that includes the prices of similar homes that recently sold or are currently for sale in the Borrego Springs areas.
So whether you're buying or selling, feel free to contact me and I will be happy to help you with all your real estate needs.
About Borrego Springs
Borrego Springs started as a farming community in the early part of the twentieth century, homesteading became popular in the 1930s and the by the 1950s Borrego Springs was becoming a resort town. Borrego Springs today has grown and it is noted for its "Dark Skies" designation, a selective community for a second or retirement home. It is truly San Diego's "Secret Desert". Borrego Springs is 80 miles from San Diego and about 80 miles from Palm Springs-by car, not by crow. There are no freeways, stop signals, supermarkets, nightclubs, or fast food franchises. One must discover Borrego Springs.
Borrego's friendly inhabitants and the genuine hometown atmosphere add to the appeal of this unique place. The community offers a bounty for nature lovers, explorers, as well as to those who want luxury accommodations, golf, tennis and the good life. A variety of good restaurants await the visitor here as well as small shopping malls, good schools, excellent residential neighborhoods, plus a 5000 foot runway at the Borrego Springs Airport. We also pride ourselves by offering a large art community. In the spring there is a "Circle of Arts Festival" where many of our local artists display their work. One of our newest attractions is the Galetta Meadows Metal Sculptures that are scattered around the valley floor. Visitors come from far and wide to see these sculptures and even camp between these huge pieces of Sky Art.
ANZA BORREGO REALTY, INC., welcomes you to this wonderful community
Buyers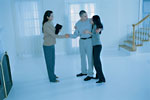 Whether you're looking for your first home, your dream home or an investment property, I'm committed to providing you with the highest quality buyer service. When making the type of investment that buying a home requires, you deserve to have all the latest market information and the very best advice, both of which I can provide you with. Read more.
Sellers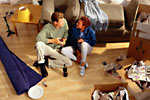 The decision to sell a home is often dependent on many factors. Whatever your reasons are for selling, my proven effective marketing strategies will ensure that you get the highest possible price for your home. I guarantee to provide you with professional, ethical and confidential service and keep you fully informed every step of the way. Read more.